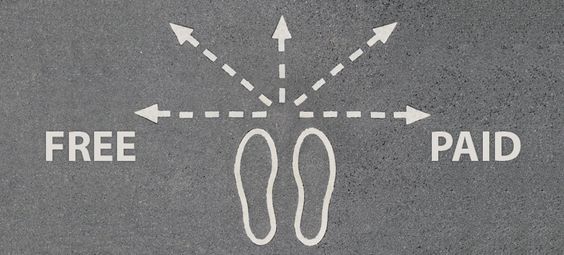 Anyone else singing that line "It's not about the money money money"?!  The question is: Which dating site/app should you choose and how do the free dating sites/apps differ from the paid dating sites/apps?  The answer doesn't have to do with just the money, money, money that they charge or don't charge, but moreover what it means for you and the experience you will have.  What is about the money is the reason why the paid dating sites/apps are set up the way they are, restricting who can message/read messages, but not who can sign up.
Myth: Dating sites choose to be paid dating sites to increase the quality of their website and the user's experience.
…Or, if you want to look at it a different way:
Myth: Paid dating sites give you a more quality experience and more serious daters.
Truth: The dating sites require subscriber fees for the proft, not a better user experience.
…and…
Truth: Paid dating sites don't mean a higher quality experience or more serious daters.
Some dating sites/app start out as free and transform into a paid dating site – like Hinge, OkCupid, Plenty Of Fish (POF)  – usually after receiving millions in venture capital funding or being bought out by a huge company.  The Match Group, for example, owns 46 dating brands, including OkCupid, Plenty Of Fish, Tinder, OurTime, BlackPeopleMeet, and of course Match.com.  Spark Networks owns more than 20 niche dating sites, such as JDate, JSwipe, and ChristianMingle.  And some dating sites/apps start out as paid from the beginning, like JDate, Match.com. or eHarmony.  It's a subscriptions-based business model, usually used in addition to advertising revenue.
The  alternative to paid member subscriptions is to provide the services for free and only charge advertisers, like how the largest social network in the world does – Facebook.  And how Friends Match Me works.  More members mean more advertising revenue, means more profit.  But in the online dating world, the number of potential users is smaller than in the social networking world.  It can be a tough business model to sell to investors who want the biggest and fastest return to their investment.  Plus, when most dating sites/apps are owned by a couple companies, there is the monopoly effect: they control a lot of the "competition".
So, what does this mean for you, the online dater?  Choose the dating site/app that aligns with what you are looking for first.  The features that you want.  The privacy that you want.  The type of relationship you want – "hookup" or on the relationship side.  Whether or not the dating site/app adopts member subscription plans or offers a truly free dating site.app really isn't what determines the type of dating site/app it is or what features it offers – that's determined by the design and the message the dating site/app gives out, i.e. the branding.
But the design and how the dating site/app chooses to monetize can make a huge difference on your experience quality.  If the dating site/app chooses to require fees for members to read/send emails, for example, that affects your experience too, whether or not you choose to pay the fees.  Everyone on the dating site/app will not be a paid member, but you will also not know which profiles are and which aren't, by design.  You messaging, liking/favoriting, or viewing a non-paying member gives the dating site/app the tools to try to entice them to become a paying member too.  So, in this way, it's about the money, money, money.  Currently, there is an OKCupid class action lawsuit claiming the dating site tricks its users into costly upgrades.  Online user reviews follow suit:
Original review: Dec. 23, 2016
I paid to join their Premium Service and sent out over 600 emails and got 3 responses. As a reference, I am on other sites where I received 5-10 emails a week. When you join their A-list, you get to see " Who Liked You" and over the 30 day period, I received a total of 4 likes. Well, my 1 month subscription ended yesterday, and within 8 hours I miraculously received a total of 10 more likes… Yes, over 30 days I received 4, but after my subscription ended, somehow I received 10 more. I am 99% sure OKC does this purposely so they can bait you to join, but save your time and money – this site is a total scam – especially the pay service.
OkCupid currently doesn't charge members to read or send emails, but to view "Who Liked You".  Users of Match.com and eHarmony also have felt scammed into buying the membership for potential matches waiting for them:
Original review: Aug. 21, 2017

Match.com does not allow you to get any sort of refund if you wish to cancel. They will up-sell you into longer subscriptions; don't buy it! They hide behind weird policies and terms to keep profiles viewable unless they are "specifically" turned off. You are probably messaging 50% ghost accounts in my opinion. Fake profile with same usernames in multiple cities appear. "Profile unavailable" will always appear. Expect many unread messages because of all of this. Adding to all of this is the people who lie about their age and the scammers who are on the prowl and you should just avoid this site at all costs.
I highly recommend that you avoid the website at all costs. Don't get conned into signing up after a trial because someone viewed your profile or liked your picture because chances are the profile is unavailable anyway. It's a con job all the way. I hope I can save at least one person out there from making the same mistake I did. I am currently trying to dispute the 6-month subscription which they wouldn't even let me change to a 1 month even after being completely dissatisfied with the service.
Similar story from this verified reviewer, criticing Match.com's monetization plan that members cannot read or send emails without being a paid member:
Original review: Oct. 3, 2017
…Match will not let you see who messaged you or who viewed your profile without ponying up at least forty bucks for a month, or eighty for three. I got a lot of views and messages after I created my profile, but after I plunked down my hard earned cash I came to find out they were either troll profiles or from ridiculous distances. Like I'm on Long Island, and got "matches" from Connecticut. Like I'm going to take an hour and a half ferry ride, plus drive time to go on a date. And, despite explanation and asking for a refund within 24 hours, they refused to give me my money back. How can you not feel like you were scammed?…
Similarly, this verified reviewer questions Match.com notifications enticing him to purchase and renew his member subscription:
Original review: Sept. 23, 2017
I would typically receive 2-3 interests a week. When I went to cancel, I received a notice from Match I had five interests waiting, so I renewed my subscription.The majority of my interests turned out to be false profiles and Eastern European women. I got a couple of them to send me a direct email, where I pulled their IP addresses. The source did not match their profile location. They apparently realized this could be check, because the next couple women, tried to get my phone number. When I told them they had to email me directly, off the Match.com site, I never heard from them again. Lastly, when I did cancel, I get emails from Match.com stating I have 39 interest. Really? I never had that much activity total. As far as I'm concerned Match.com is a big scam.
And similar stories from eHarmony verified reviewers expressing feelings that it is all about the money, not a quality experience for the users:
This Match.com verified reviewer felt forced into upgrading in order to receive necessary search tools, but was extremely disappointed with the quality of the members, even though it is a paid website:
Original review: Sept. 28, 2017
Match.com FORCES you to upgrade to get the Most for your Search. It's Super Limited otherwise. There are SO Many GROSS ppl on this Site. They Don't read your profile for the most part. They go on your appearance… This Whole experience has been EXTREMELY DISAPPOINTING!!!. I AM Disgusted!!!
All dating sites/apps can have spammers and unfortunately scammers and fake profiles, whether free or paid.  How the dating site/app responds to members reporting is very important.  There are lots of verified reviewers online criticizing their online paid dating site/app experience for spammers, scammers, and fake profiles, in addition to how the dating site/app handles it:
Original review: Aug. 23, 2017
I have reported Match.com profiles that were revealed to have stock photos, or that were associated with a person that had profiles under a variety of names. I sent the Google links to the evidence along with my report and although I received a canned response from the customer service department, the profiles were allowed to continue on their site. Match.com does not protect its customers from individuals who have been identified as devious.
Unfortunately, per this Match.com subscriber, Match.com did not provide the follow-through necessary when a user did report members/activity.
Free-to-message dating site, OkCupid has a lot of negative reviews on scammers, spammers, and fake profiles too, as well as unwanted "hookup" advances.  The "hookup" nature of some emails may not be a surprise to many OkCupid users, as OkCupid has not really set itself up as the "Relationship App".
Original review: Sept. 28, 2017
Every man that contacted me on this site were looking for SEXUAL HOOKUP. I complained to OkCupid, but they just let this person continue to POST. I've tried to use this site on 4 occasions, SAME MO, "I have a big ** like ** man, let's meet today." That's all I get and OkCupid don't monitor these predators.
Original review: Sept. 5, 2017

So I've been on OKC since who knows when, like at least 15 or so years & it was always great & everyone loved it since it allowed all different types of people including polyamorous people. Well I hadn't been on it for years & I moved out of the country & when I did (back in 2012), everything changed. I barely got any good matches & fast forward to the last 2 years 2016/17, it's now soooo BAD, that it's right down there with POF. All I do is waste my time blocking & reporting scammers & fake users one after another. And we aren't talking a few of these, I'm talking TONS of these every day vs. the ZERO I used to get years ago.
And the few guys that are on there who are real of course DON'T bother to read anyone's profile, so all I get is the idiot responses like, "Hi, how are you?" or something to do with my looks. Half the time I can't tell if they are one of the scammers or just the moronic guys, although women are just as bad as NOT reading profiles. I just realized about 30 minutes ago that their app doesn't work. I wasted about an hour blocking & deleting TONS of fake users, then I went on to my computer today, & the users' messages were STILL in my inbox so I had to redo everything wasting MORE of my time. I have to take a guess that after Match.com bought them out (I didn't even know until a few weeks ago), everything went to **. NOT GOOD!

Jameece of Fresno, CA Verified Reviewer
Original review: Aug. 3, 2017
This is a free dating site but filled with so many scammers. I am contacted about 15 times a day by fake users who tell me they live near me but had to go to Africa for work and then they were robbed and could I send them money so they can get home. I even had one ask for my Address so he could send me a stuffed teddy bear and chocolate covered strawberries before he asked me to send him money.
This verified reviewer thought to try eHarmony to "meet with people of higher quality – more professional, more educated" rather than OkCupid – but she found it to be even worse and cost more.  And moreover, because eHarmony does not state whether an account is active or not, or a paid member with access to read email (like Match.com), you could just be wasting your time:
Original review: Oct. 15, 2017

Being recently single, and interested in meeting a guy I had signed onto OkCupid for awhile, but felt that I wanted to meet with people of higher quality – more professional, more educated. I'd heard about eHarmony and my impression was that they were better at screening and I was likely to meet more quality people there. I got a 6 month subscription and am now almost three months into it. To my surprise this expensive service is very poor and nothing like advertised. It seems to me the quality of people there are not any better than the free site, and the amount of scammers is perhaps even higher — which is a lot! I did end up messaging back and forth with one guy who seemed pretty well educated and respectable and eventually even he turned out to be a dishonest and sleazy person.
I got such a bad feeling from all of the guys I talked to there, I was really surprised. It seems like eHarmony offers the bottom of the barrel. I regret spending the money on this service and I also regret the time I put into it and wasted. I would recommend that people steer clear of this service entirely. I would go with one of the free sites or perhaps even Match.com before this one. At least "Match" has a larger volume of people to choose from. It seemed to me that very few of the profiles eHarmony sends you way are even active; eHarmony keeps you from knowing when the person was last on the forum, which is entirely underhanded. I would just sum up my feelings by saying: stay away from this site if you value your time, money and your safety. Some of these guys even struck me as dangerous.
Maybe she should read the Match.com reviews…more from eHarmony reviewers:
Original review: Oct. 2, 2017
How could one trust that eHarmony cared, knowing their ratings are at the bottom. I am canceling. Every time I like a match, I get 'this person is not able to participate,' or something of the sort. I actually have had fraud on my bank account from them, the site is so slow (you'd think the fees from us alone would pay for speed, storage and upgrades for them). We do all the work, writing about ourselves, giving hackers more leverage. I was charged around $24 because I accidentally bumped 'incognito', of which I keep searching MY memory… did I see an 'incognito' button, let alone any $$? NO. For the time I have spent, money, NOT feeling comfortable… Oh, one would think it's a scam. And I have been inundated with new trash email. No thank you! A great idea gone bad, unfortunately.
Original review: Sept. 25, 2017

I am so frustrated with my eHarmony experience that I feel I could write a short story on why no one should ever use their services/site. This is nothing more than a means to make money, end of story. Like so many who have submitted reviews, I feel eHarmony is a scam on a grand scale. I too have been "matched" with those I have zero in common with, etc. I was contacted within 2 days by someone who seemed to be legit, only to never hear from them again after a brief conversation. Also, like others I have yet to receive the first response from anyone I have sent an eHarmony "smile". This could be because all of the matches I've received are well out of the range I chose. I also question if the matches are even real.
In the beginning you get 5-6 "matches" daily, now within a 3 week period I receive one a day. This singular match does NOT live in the same state or, is hundreds of miles away if they are in the same state. In other words the commercials touting how eHarmony has such a great success rate must be a huge lie too. How can you truly date someone who lives hundreds of miles from you? What is the possibility of meeting this person? I would say a huge improbability. The one saving grace I have is seeing that others are as dissatisfied as I am, which should not bring anyone comfort!

EHarmony should not be allowed to continue this current practice of taking your money & not supplying the service they claim as their success story. I for one do not feel my experience could ever been seen as anything other scammed, disappointed & taken for $300. There should be recourse to stop this sort of unscrupulous company/website taking unsuspecting consumers for a ride. I had no idea I was signing for such a disappointment. eHarmony does not deliver and, for this reason even a prorated refund should be expected and, received. My advice: BUYER BEWARE.
Original review: Aug. 13, 2017
I was matched with a man my total opposite. I felt like I had been pimped out. After taking on the computer for days. We exchanged phone numbers. On the first call the conversation from him quickly turned to sex talk. The more I objected the more he talked. I cut off conversation and reported him. Absolutely nothing was done. His profile was never taken off. I was so upset I stopped payment to site.
Original review: July 13, 2017

First let's start with the warm, safe commercials that they play on the television. All the happy people talking about the wonderful matches. I didn't care about money or looks, I was raised to look for what counts, what's inside. I asked for within an hour from my location. I was matched with men that were old rich men! When I didn't jump to date them I was sent emails that basically said I was too picky! I said I would date a man ten years younger and up to ten years older than myself. They repeatedly sent me letters that wanted me to date much further away and expand my age boundaries.
…

There were so many matches all claiming to be over 90% matches of my perfect man that were crazy and one loser who said he was 60 and looked 90 and asked me for "pictures" because he was on the fence about asking me out! Creepy old dirty men, liars, married men from out of state that want a business trip hook up, and scary men that eHarmony themselves even cancel their accounts. UNSAFE is the final word on eHarmony. Women beware!
So, in summary, any dating site/app can have issues on spammers, scammers, or fake profiles.  How the dating site/app algorithms checks for it automatically is important, as well as how they handle reports, whether or not they respond to concerns and moderate as necessary.  We have automatic routine checks for fake dating profiles and spam activity on the Friends Match Me dating site/app as well as respond to member/activity reports by users accordingly.  Service is important to a quality experience.  As is the monetary method adopted – Friends Match Me is the totally free dating site/app so all members have access to read emails you send, you can view your profile visitors and who favorited you if their privacy controls allow it, and you get to enjoy the same privacy controls too.  All free for a top quality experience.  Paying doesn't make a service have quality.  The service does.  Choose the dating app that chooses you: Friends Match Me!