Update 6/3/22: The JSwipe app is working again; Facebook login – which is required to use the app – is now working there.
We got rid of the Facebook account requirement at Friends Match Me a few years ago. It is definitely something JSwipe needs to do too, and their members clearly agree – this feedback is all over their app reviews, especially now.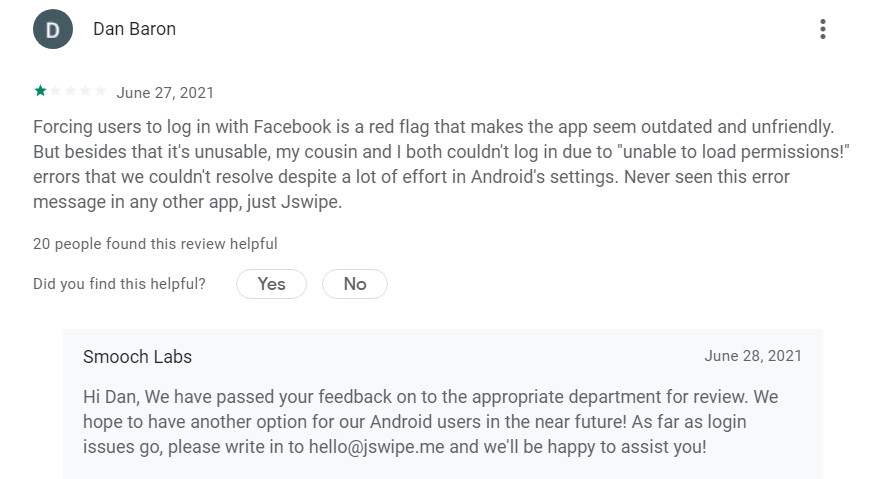 At this point, members cannot even login to their JSwipe accounts because the dating app is having issues with the Facebook login integration. With Facebook as the only way to login, the once popular Jewish dating swiping app has been broken for more than a week. Besides being very buggy for years. But its loyal members were still giving it a chance to fix the bugs.
Having only one way for members to access their accounts and use the app, puts JSwipe at the whim of Facebook. If Facebook decides to disable JSwipe for some reason, the JSwipe app is broken. It seems like that may be the case right now, as there is an error message when trying to login to JSwipe that the app is in Facebook development mode…but it is not clear why JSwipe has not been able to fix the issue or implement an alternative.

The Facebook login error for JSwipe says, "App Not Setup. This app is still in development mode, and you don't have access to it. Switch to a registered test user or ask an app admin for permissions".
So no new members on JSwipe, and members who have been logged out for some reason are now off the app too. If you are one of the people on JSwipe who still has access to the app, there is an error message that will pop up for you when trying to swipe for new matches: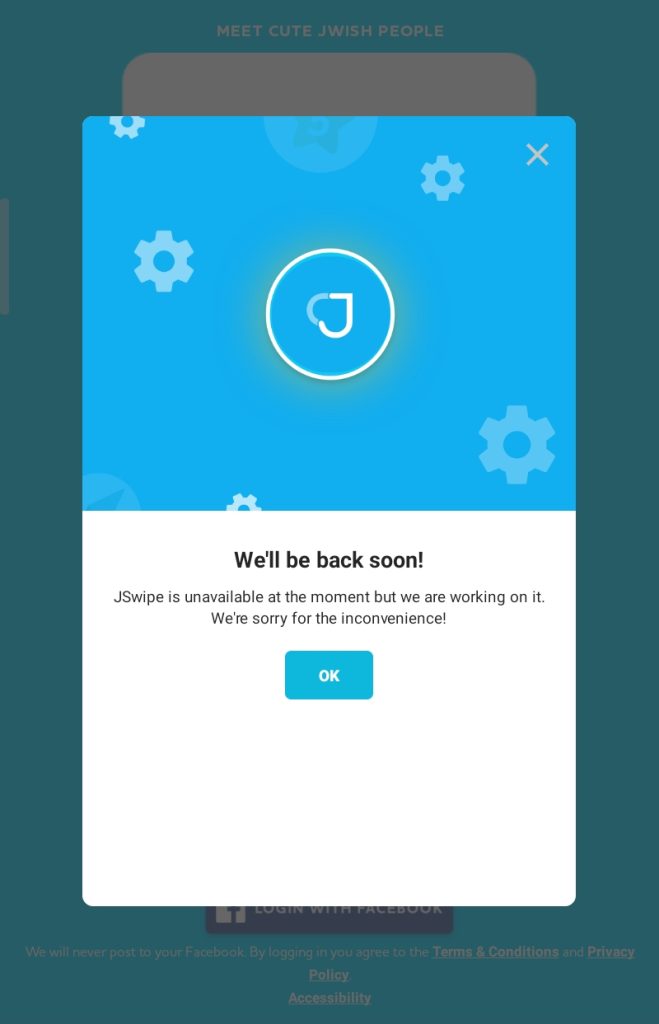 JSwipe pop-up claims, "We'll be back soon!" – but it already has been more that a week. The message continues. "JSwipe is unavailable at the moment but we are working on it. We're sorry for the inconvenience!".
Any matches received or chats on JSwipe are from members who have not been logged out and have not needed to log back on. Unintentional ghostings coming soon…one side may feel like they are being ghosted, when in reality it is just about them not having access to the JSwipe app anymore.
Wonder if JSwipe will be providing refunds or extensions to members subscriptions? Seems like they should as their app has been broken for more than a week. Unlike the totally free dating app Friends Match Me, you have to pay on JSwipe to check out who likes you. The who likes you feature is an even bigger necessity on JSwipe because it requires a like on both sides before someone can send a message…what if one person doesn't even find the other user's profile? Then it's no match based on just not knowing about the other person.
Why doesn't JSwipe get rid of the Facebook account login requirement? Spark Networks acquired Smooch Labs, Owner of the JSwipe and Jdate in the fall of 2015. Maybe JSwipe isn't bringing in the money like their other apps and it just isn't a priority.
We hope you choose to try out Friends Match Me if you haven't yet, the app that chooses you. Friends Match Me is totally free, no swiping, lots of search tools, detailed profiles, optional videos, message who you like, check out who likes you, privacy controls…we welcome your feedback and make updates based on feedback from members.