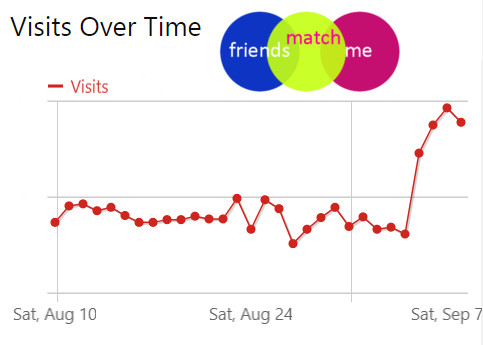 Coincidence that Facebook's launch date of its dating app in the U.S. is at the same time traffic numbers are multiplying on our dating app Friends Match Me? Hmm…well whatever the reason, we're happy about it!
We consider Friends Match Me to be the answer to all the issues singles have with the other dating apps.  One of the features we added last year in November was a Facebook optional signup/login.  It was a user-requested feature by those who wanted to join Friends Match Me, but either did not want to connect with their Facebook account, or they didn't even want to sign up for a Facebook.  While making Facebook connect optional, we still kept the Facebook-related features that come with it – checking out member Facebook likes and mutual Facebook likes, and searching by Facebook like. No more checking out Facebook mutual friends though, due to Facebook revoking that access to apps, citing member privacy reasons. But we added cool member insights via Me We Too mini polls at that time too!
Hope you enjoy our Friends Match Me dating app too and we welcome feedback (which we actually read and consider)!
Join Friends Match Me at www.friendsmatchme.com or find us on Google Play or the App Store.  It's totally free for ALL features!
Related:
Why Friends Match Me dating site/app Does Not Require a Facebook Account anymore
Friends Match Me upgrade! Me We Too mini poll compatibilities, and Facebook optional!
Most similar Facebook Likes on…Barack Obama, Shakira, Adam Sandler, Football…