In August we discussed dating site OkCupid's "upgrade" of removing the visitors feature both ways – you can no longer view visitors to your profile nor view profiles you have visited.  Much to the dislike of OKCupid members, OkCupid is back at the "upgrades".
One of the major changes OkCupid has recently rolled out is restricting who you can message – if you want to message someone, you have to like them, or click on the "like" button.  Interestingly, on "free" dating site OkCupid, you have to pay to see who has liked you.  For now, you can still read/send messages for free.  This like-before-you-message update, coupled with the removal of the visitors feature, is pushing OkCupid members to either jump in or pass, no getting your toes wet.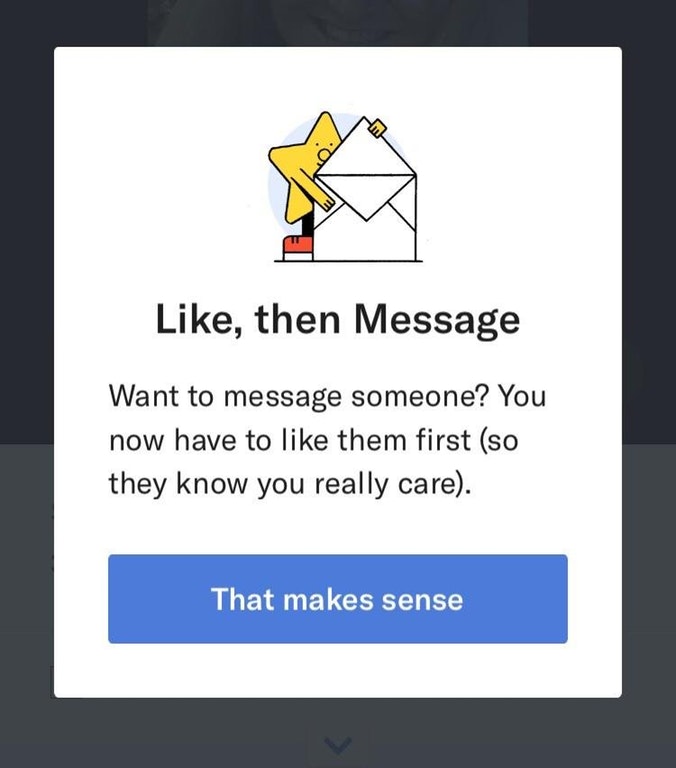 Does it make sense?  Requiring a like before a member can message also is seemingly watering down the meaning of a like when it's forced onto the user because they want to send a message.
It seems like OkCupid is trying to be more like Tinder and other swiping dating apps.  Besides connecting the liking feature to messaging, OkCupid has added a new feature, the Pass button.  Clicking on the pass button on a member profile will hide that member from your searches.  According to OkCupid member feedback, matches that you like and message also do not appear in your searches anymore.
Back to features removed: OKCupid members can no longer remove their answers to questions on their profile – they can just update answers on a delay.  So, if you click the wrong radio button in the multiple choice answer, you currently have to wait about 1 day to update it.  According to feedback on the App Store for the OkCupid app, the questions/answers feature is actually removed in its entirety, so maybe it is set to be removed from all platforms on a roll-out:
Used to like it…


by Sheashea825

So basically you took everything that made this app unique, and threw it out the window. The whole bs about getting rid of visitors boosting messaging is bogus. Even as a female, I've receive at least 75% less messaging. Plus, you don't know when people even like you. And now you can't even send messages unless you like them first even though they can't see it anyway. This is rather pointless. Obviously if they are messaging, they like the person. Back to the visitor thing, the only successful date I went on, was with someone whom were we flirted literally by visiting. You have ruined this app. It was working fine before you made horrible changes. But you know thanks for being all inclusive. Another thing I miss is being able to see people's answers to the questions. It was nice because then we could see what kind of person they really were based on their answer and what they said about it. So thanks for ruining that too. Tell me when you go back to being fun again or point me to another app that's like what you used to be.
(via App Store)
Other OKCupid members/ex-members have openly expressed their growing dislike to the dating site changes:
Ex-OKCupid memberDan J expressed his dislike of all the OKCupid dating app changes a couple days ago in his October 11 android app review:
This app just went from the best to worst when it removed the ability to see people you have ever interacted with. It actually works better now if you never rate anyone. A left swipe and a hide are now identical options, so if you left swipe someone who had a blank profile and they later fill it out, you will never know. So the best way to use this app is to now not use it at all. Solid decision.
With similar sentiments, Adam F. in his review also October 11:
I've been providing helpful feedback and rather than fix anything it keeps getting worse. You don't even detail the updates anymore under "what's new" because you know it's becoming outright horrible. I just canceled my subscription renewal because obviously nobody cares about this project anymore
(Google Play Store)
Russel B. posted just yesterday on Google Play:
This was my favorite dating app but the latest update has ruined it. You can't message somone now unless you like them and after you do that you never see their profile again. I hope whoever approved this feature gets the boot…. Idiot!
And just today from Daryl S. on Google Play:
The latest changes have ruined what made it special. Most of your matches are hidden from you now and the only way to see them is to swipe left or right endlessly through terrible matches that you can't hide anymore. It used to be so easy to see and connect with great matches. Now it's tedious AF.
Nick C. wrote one October 11 on Google Play:
Ruined the app. Was literally my favorite dating app for the versatility and ability to be able to find new people without HAVING to match with them… How ridiculous is it that literally everyone I've liked in the past is just gone now so I have no way to interact with them anymore.. you guys are gonna tank yourselves. I will be cancelling my account and I know many others who are doing the same. Went from first to worst in a single day.
(Google Play Store)
And Wesley R. wrote today on Google Play:
OMG are you even serious with this last update taking away all matches, last logged in etc if I don't t reset all preferences! Every update gets worse and worse, taking away even more features that made me use this app in the 1st place. Okcupid really want to become unpopular and go out of business!
Thomas P. wrote today:
Used to love this app, but the newest version has rendered it completely useless. You no longer see people you've liked or interacted with in your matches. Totally pointless.
Kim H. wrote today:
This app just gets increasingly worse by every update! You can't see visitors, and now you have to like to message?! Get a grip okcupid, you used to be cool!
Another recent review on the App Store for the latest OkCupid app upgrade takes the humorous approach to make a point about the enormous amount of ads popping up with each action:
Single Ads in your neighbourhood!
by Roiceradical

Are you attracted to constant unskippable Ads? Having a hard time swiping through all those pesky humans on other dating apps? Well OKC has a fix for that. Why have the freedom to send a message when you could be watching an Ad. With OKCs new algorithm, you're guaranteed to match with an unskippable Ad after every 6 swipes, message, or even the second you open the app. You'll never be alone, as OKC will always be there to sell your data to Ad companies. At OKComputer you're always watched.

In all seriousness, this app is really bad. You are hit with an ad after everything you do. They removed the only features that separated the app from other dating apps. Half the time profiles are fake, or just plain empty. The algorithm is a complete joke, and even if you find someone cool, have fun trying to enjoy a natural conversation through the constant stream of unskippable ads.
Ads are a part of free services, however it seems like OkCupid is currently going overboard on the ads for profit.  Friends Match Me, the totally free dating site, also runs ads, however on our apps the ads display at intervals, not constantly.