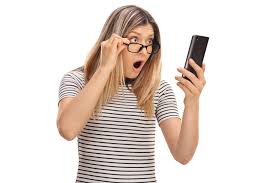 No more unlimited swiping and liking for the dating app Hinge.  You now only have up to 10 free likes in 24 hours – and still you cannot communicate with anyone unless you both "like" each other.  That's really cutting down the options; even if you pay the supscription fee to get the unlimited likes, if the girl or guy that may be your match hasn't upgraded to unlimited, they may not find you in the swipe world for the chance to "like" you and send a message.  Hinge is continuing to follow the many other "free" dating apps in their profits quest, converting free features to require a subscription fee, like OkCupid and POF and Tinder, and app users are noticing…the complaints are rolling in.
adam Sweatt
November 27, 2018
"Was an awesome app loved everything about it. Couple days ago they changed it where you have to pay for likes. Ruined the whole thing really. 10 likes in 24 hours? You gotta be kidding me. This will cause all the busy and worthwile people to leave. Also I get like 2 out if every 3 messages yet they show up in the notification bar and when I open it it's gone."

Nikola Pejović
November 23, 2018
EDIT: They now started charging for likes, just like Tinder, are you serious? Such a scam. It had all the good looking girls lined up at the beginning when I created my profile and in a couple days it started giving me the girls I didn't like all over again, even when I press X.

Eoghan Casey
December 1, 2018
Unfortunately the Hinge team have made a massive mistake by starting to charge to swipe (quite costly too!) It was a great app and was truly the best dating one out there for any meaningful connections. It's sadly just gone and killed it's userbase though. Requires a quick 180 or a massive increase in "free" likes before it's all too late.

Christopher Mcclelland
November 23, 2018
This app was great. And now suddenly we have to pay to swipe unlimited ? Dont be greedy. Your app is of higher quality. Dont go ruining it by making me pay to get unlimited likes after you take it away from me for no good reason. Pretty garbage move hinge. And dont think we dont notice you not commenting on the plethora of complaints about this, but you'll comment on complaint about spam members. Fix this

Woody Culp
November 23, 2018
Really loved this app until you implemented a limit on how many likes a person can send. It doesn't matter how good looking or personable a guy is, it's always going to come down to a numbers game until someone decides to match. You've effectively taken away guys ability to match with people.

John Detorre
November 25, 2018
This app. turned out to be a scam. There has been quite a few fake profiles. One person had asked for my banking info. And when I had reported the profile, I did not receive any updates or a follow up. It's like they don't even care. Also recently they would start charging you for likes. You would only get a limit of 10 likes per day. Otherwise you would have to subscribe to their scam. In the beginning there used to be more attractive women on here. This app. doesn't even deserve 1 star.

Alex O'Neill
November 25, 2018
Just installed this due to a recommendation from a friend, but you only get 10 likes a day before you have to pay. Massively disappointing.. I wouldn't mind paying for premium features, but this is a bit much and kind of a deal breaker.

Nick Sauro
November 29, 2018
This WAS the best dating app out there but now they've gone and gotten too big for their britches. Ruining their app with limited likes per day, and making microtransactions a central part of getting anywhere as far as dating goes. Really very disappointing to see it go this way but what are you gonna do. Bring in the next app because this ship is sinking fast.

Prasad Walanj
November 24, 2018
the recent update that you only get a limited likes per day sucks. I think this update is a demise for this app now and probably an opportunity for the new developers. U get what like 10 likes a day thats nothing. I'm guessing after so many negative reviews they will have to take some steps to rectify their mistake.

Michael Donlea
November 25, 2018
Used to be very good, but Hinge has now started charging for more than 10 likes in a day. Also, I get notifications saying that someone has messaged me, but when I go to check my messages there's nothing there. Irritating.

Timothy Battle
November 26, 2018
It was literally best thing of its kind on the app store until they made you pay to use it. Now it's worthless, don't bother even downloading it.

Leo Bell
November 26, 2018
Look this app was great. The developers have now like every other dating app got greedy. Look no one expects you to work for free but my main issues with your new payment system. 1. You allow 10 likes every 24 hours…err what? That's ridiculous period people live busy lives limiting them that much is crazy. 2. You expect people to pay for an app that has been broken for weeks, the notifications do not work…period. They either never show up unless you go into the app and into the conversation. Or it tells you that you have a message only for that message to not appear unless you delete and reinstall the app. You can't expect people to want to pay for an app that is both broken and limiting. Really disappointed would happily have laid when the app was working and with no limits. But forcing me to pay to use a broken apo is just a slap in the face of people who have spread the word about this app and helped build your userbase.

Michael Rudy
November 25, 2018
Falling into the same micro transaction trap as the rest of them… you get a handful of free likes before you have to pay and like girls who will likely not like you to begin with…

A Google user
November 25, 2018
1 star because you limited the likes to 10 per day. Stupid, greedy move.

Sean Douglas
November 28, 2018
You now have to pay to use more than 10 likes per day and messages don't always come through even if there's a notification

Paul
November 23, 2018
Awful update. Note you are limited to 10 likes everyday, just not worth it anymore

Brent Wilson
November 27, 2018
Was a good app until the app creators got greedy and limited your access unless you pay. Way to ruin a great dating app

Ashley Squires
November 26, 2018
Once again another dating app ruining their service by limiting the likes per day and charging for more, looks like I'll be moving onto the next app!

Bruce Banner
November 28, 2018
This app was okay until they limited your "likes" per day in a desperate attempt to push people to spend money. No thanks….
If you're looking for the dating app for you, choose the dating app that chooses you – Friends Match Me.  Friends Match Me is the totally free dating app that is not going to be starting charging for our app features. Plus, it's also free on desktop.