How real is reality tv?  FYI network is pushing the limits as to what people accept as "believable tv" with their new reality tv show, "Married at First Sight".  It is apparently based on a Danish program of the same name.  They describe it as an "extreme social experiment".  It follows three Tri-State Area couples who have never met before, who know nothing of the other – no photo, no name, no personality info, no job info – before saying "I do".  The set up is not arranged by their parents, but by four relationship "experts": a sexologist, a spiritualist, a psychologist, and a sociologist.  
The four matchmakers narrow down a casting pool of 625 candidates to 50 eligible bachelors and bachelorettes, and then finally to these three couples.  At the end of five weeks of living together, the couples decide if they would like to continue to stay married or get a divorce.  Yes, a prenup was signed, and it is apparently a "real" marriage, or perhaps better termed "legal" marriage.  Perhaps an annulment could also apply.  The usual wedding ceremony kiss on the lips was replaced by kisses on the cheeks for two of the three couples, accompanied with awkwardness on each touch.
The three couples are (pictured below from left to right): Jason Carrion (27 years old, EMT from Brooklyn) and Cortney Hendrix (26 years old North Carolina native, makeup artist who performs in a burlesque troupe); Monet Bell (33 years old, fashion product development manager) and Vaughn Copeland (30 years old, field service technician); and, Jamie Otis (27 years old, nurse from Harlem) and Doug Hehner (31 years old, commercial sales rep and lifeguard).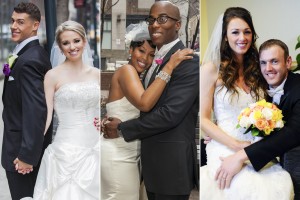 Now you know more about them than they did before getting married.
If Jamie Otis looks familiar, it's probably because she was on Season 16 of "The Bachelor" and the spin-off show "Bachelor Pad".  Otis competed for Ben Flajnik's red roses and love connection, sharing an awkward kiss with him before Flajnik took her out of the running for his love match.  Her reality tv wedding day was even more awkward, as she describes it: "Walking down the aisle, I am so scared. This is the worst feeling," and "I just happened to be not attracted to the guy".  The experts knew Hehner was not the typical guy she was attracted to, but opted to go with him based on personality.  Can they find love after weeks of playing house "for real"?  Here is a clip from their wedding:
Otis tweeted this last week in response to a tv viewer:
"@youmazzin529: @jamienotis@FYI r u still married?? #MarriedAtFirstSight" I can't tell you that. But I can tell you that I'm very happy! ?
Happy because she is happy to be single, or happy as a newlywed?  What do you think?
You can watch "Married at First Sight" on FYI, Tuesday nights at 9ET/8c and 10PT.  It aired on the cable channel last week, but you can catch up on episodes from their website here.
What do you think of this extreme version of arranged marriages?  Post your comments below!