They played the on-again, off-again boyfriend and girlfriend, Micheal Kelso and Jackie Burkhart, for about a decade on the hit TV show "That 70's Show", dated in real life for about 2 years, and now according to several reports – no formal announcement from the couple yet – Mila Kunis and Ashton Kutcher are engaged.  Doesn't seem like it is another Jimmy Kimmel prank or Kutcher Punk'd!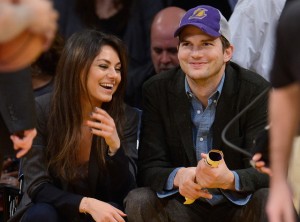 Credit: Noel Vasquez/Getty Images
Kunis was spotted wearing an engagement-type diamond ring on her ring finger on Thursday, and sources tell E! News that the two are indeed in love and tying the knot.  According to US Magazine sources, Kunis and Kutcher took their long friendship to the next level in spring of 2011.  Right timing for both.  Kutcher (36) and his ex-wife Demi Moore split in Fall 2010 following his fling with Sara Leal in San Diego, and Kunis (30) ended her eight-year relationship with Macauley Culkin around the same time.
Pals close to the former That '70s Show costars have been waiting for Kutcher, 36, to propose. "They talk about getting married and having kids," one friend told Us late last year. "An engagement is imminent." …

…though they've been resolutely private, are "inseparable," another pal told Us.

…"Ashton and Mila cook together," a Kutcher pal says. "He knows he ended up with the right girl."
(via US Magazine)
Cooking in more ways than one.
The Ellen Show fans got a sneak peak to Kunis & Kutcher being "inseparable" last year, right before Valentine's Day, courtesy of Ellen's interviewer skills:
Last time Kunis talked to Kutcher then: "Give or take a couple minutes"! lol!
People reported the same too:
The Kunis & Kutcher wedding will be a "That 70's Show" reunion:
"It's amazing," Kurtwood Smith, who played Red on the series, said of their relationship in November 2012. "They're both great people, so I'm happy for them."

In fact, at the time, Smith joked, "Maybe they should get married. We'll all go to the wedding and that could be the reunion. It'll be a reality show."
(via E! News)
Real wedding for the real Kelso and Jackie.  Who would have thought?  Gives more credence to the theory that when you're with someone a lot, falling in love happens – but then also, you're with someone more because you like them to begin with.