Watch a romantic comedy on Saturday night with your girlfriend/boyfriend, Seattle Seahawks vs Denver Broncos Super Bowl XLVIII on Sunday.  Sounds like a plan.  But Zac Efron's new movie, "That Awkward Moment" may not be the best flick choice to buy you points for Sunday, and probably especially not a good idea for a relatively new date, with it being closer to a "sex comedy" than a chick flick, Examiner reviews.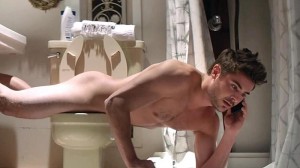 (via MTV)
Awkward.  Another date choice: ice skating.
Efron was on Ellen and Jimmy Kimmel Thursday promoting the release of his movie this Super Bowl weekend.  Efron says it is being described pretty accurately as "Sex in the City for guys".  That toilet scene says it all – it's got the toilet and sex in one.  Seems like that's the trick Kimmel said he learned from the movie, though he didn't want to reveal it to not ruin the scene.  Ellen on the other hand had no problems showing the picture. lol.
Zac Efron has clearly distanced himself from the Disney "High School Musical" days as a basketball star who likes to sing.  He is listed as one of the producers of this raunchy rated R movie, starring in it with up-and-coming actors Michael B. Jordan ("Fruitvale Station") and Miles Teller ("The Spectacular Now") .  The three buddies – Jason (Efron), Daniel (Teller), and Mike (Jordan) – make a pact to not get into any "relationship" as they conquer New York City dating life.  But the women in their life make it challenging to honor their commitment issues.