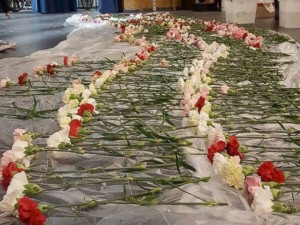 Hayden Godfrey wanted to make  "as many people as possible" happy this Valentine's Day, so he planned to give each girl in his Utah high school a flower and pulled it off with some help from his friends to prepare the flowers/pass them out.  Godfrey saved for a year and a half to afford the $450 to purchase the 900 carnations from an online wholesaler, working as a cook at McDonald's, dishwasher at a Mexican restaurant, and bagging groceries at a local store.
The idea started when Godfrey was 14, whenhe would anonymously send flowers to dozens of his friends.  Each year, the project got bigger and bigger in scale, to this.
"I think it's something I'll remember for the rest of my life," he said. "I got a lot of 'thank yous' that day. It was really cool." 
His girlfriend of six months and fellow classmate, Lilyan Sharp, called Godfrey's gesture "very special" and said every girl walked out of
school with a "giant smile on their face."
"I, myself, spent a lot of Valentine's Days not receiving anything," she told ABC News. "I know how it feels."
Godfrey didn't forget about his girlfriend – he got them concert tickets for "A Great Big World" in Salt Lake City on March 28.
(via ABC News, "High School Senior Buys Valentine's Day Flowers for All 834 Girls at His School")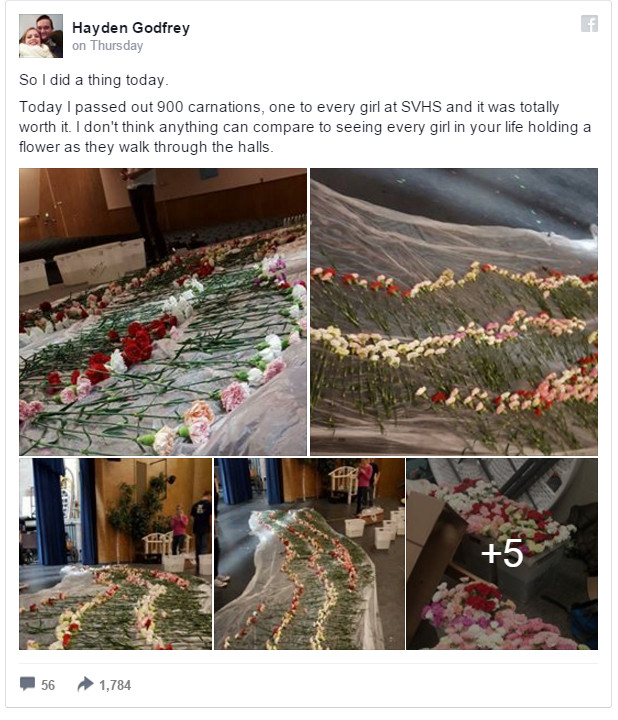 Happy Valentine's Day!