Nowadays, it's not so uncommon for couples to find each other via a dating site and have it lead to marriage.  Facebook isn't a dating site, but it is plausible to meet via Facebook…but who would think to have a Facebook bug connect you with your soulmate?  It's what happened to South Arkansas man Schuyler Benson when he logged into Facebook on his flip phone in 2009, and Facebook logged him automatically into a stranger's account, Celeste Zendler from Boulder, Colorado.
Benson and Zendler chatted to try to figure out how to logout of the Facebook glitch and found out they had more in common that just a Facebook bug.  One thing led to another, and they eventually met in person.  And a few years later, they married – yes, each other!  It's like a modern day Disney fairytale that most movie watchers would probably write off as just that, fairytale and fiction, not really going to happen in real life.  But it did.  They are now happily ever after for 6 years since that Facebook bug started it all.  To celebrate the anniversay, Benson posted an Imgur series telling their story.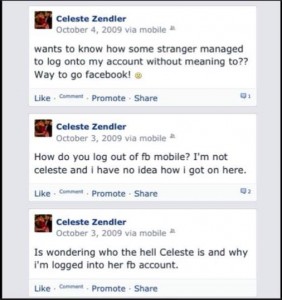 In 2009 while living in South Arkansas, I used a flip-phone to log into my Facebook account. I opened the browser, went to facebook.com, and wasn't even given a chance to enter any login information. I was already logged in. I had to make several posts in order to find out I wasn't logged into my own account.
Now that's a Facebook bug they're not complaining about!